Why we need to clean condenser?
Why we need to clean condenser?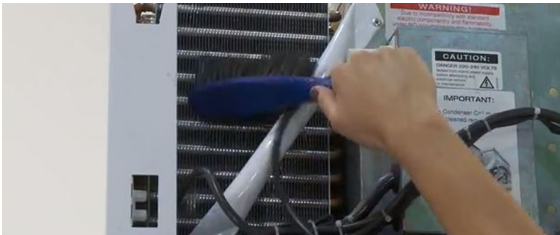 Like everything you purchase and own, it is important to keep up with cleaningand maintenance to avoid improper working.
If your commercial display cabinet is not correctly cleaned, debris can build uparound the condenser causing the cabinet to work harder to keep the temperaturedown. Eventually the cabinet will be overworked and unable to provide thesuitable temperature for your products.
Forthe best results and to minimize power consumption, we recommend that thecondenser of the showcase cabinet/beverage cooler/display showcase shall be cleanedevery month.
Cleaning
1.Inspect the cabinet regularly and clean it at least once a week or as required.
2.Empty the product from the cabinet.
3.Disconnect the cabinet from the power supply (switch off and unplug).
4.Check the condenser monthly and clean if necessary. The condenser is the finnedradiator that is external to the insulated evaporator box. If the air paththrough the condenser fins has any visual restriction, use a vacuum cleaner orbrush to clear the condenser.
5.Wipe the interior and exterior of the cabinet with soapy water.
6.Wash away soap residue.
7.Wax the exterior with automobile polish for extra protection.
8.Do not use abrasive cleaners.
9.Check and clean the door seal gaskets. These may be wiped down with a dampcloth. Bad-fitting door seal gaskets will reduce a cabinet's efficiency andincrease power consumption.
10.Reconnect to the power supply and switch on